Alain's Tonejuice ist mein internationales Bandprojekt mit sechs Musikern aus der Schweiz und England. Diese Musiker habe ich an diversen Jazz Workshops in Frankreich kennengelernt und Florian Weiss hat schon vor ein paar Jahren in meinem Jazzquartett "Footprints" gespielt. Zum Start des Projektes habe ich die Band in Belgien versammelt, auf halbem Weg zwischen London und Zürich im abgelegenen Dorf Weismes, um zu proben und ein Album mit meinen Kompositionen  aufzunehmen .

Tonejuice spielt groove-orientierte Musik in einer warmen, dunklen Stimmung. Tiefblutende Balladen, beinfreudige Rhythmen, ungerade Metren und modale Harmonie bieten einen schmackhaften Klangsaft für Geist, Körper und Seele.
Alain Brenzikofer (CH) – tenor saxophone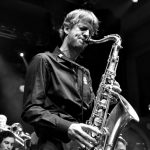 Alain Brenzikofer entdeckte den Jazz als Jugendlicher am International Music Camp in Kanada 1997 nachdem er bereits seit seinem 10. Lebensjahr spielte. Illinois Jacquet und Eddie Harris ebneten seinen Weg. 1999 bereitete er sich an der Academy of Contemporary Music in Zürich für ein Musikstudium vor, wählte aber ein Ingenieurstudium an der ETH. Während 13 Jahren war er Mitglied der ETH Big Band und tourte in dieser Zeit u.a. durch Osteuropa, China, Indien und Brasilien. Zeitweise spielte er in der Bigband der Jazzschule Zürich und in Bläsersätzen für Elijah, Lakeside, Royal Hangmen, Mike Sanchez oder Stan or Itchy. Improvisatorisch lebt er sich seit 1999 als Bandleader in kleineren Jazzformationen aus, aktuell mit Footprints. Musikalische Weiterbildung holt sich der Teilzeitmusiker an diversen Intensivkursen wie Siena Jazz (3° livello mit Paolino dalla Porta, Stefano Battaglia), Generations Frauenfeld (Lewis Nash, Adrian Mears, Peter Bernstein), Berklee Summer School (Dino Govoni, Oscar Stagnaro), Trinity College London (Julian Siegel, Simon Purcell, Gareth Lockrane). Als Komponist findet er seine Sprache in körperbetonten, ethnischen, oft ungeraden Rhythmen und charakteristischen Klängen.
Florian Weiss (CH) – trombone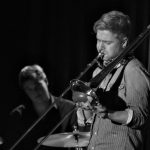 Im Jahre 2012 nimmt Florian das Studium an der Hochschule der Künste Bern, Abteilung Jazz, auf. Dort studiert er u.A. bei Bernhard Bamert, Bert Joris und Frank Sikora. Für den MA in Jazz Performance wechselt Florian 2015 an die Hochschule Luzern und erhält dort Unterricht u.A. von Nils Wogram und Markus Wüest. Neben seinen eigenen Projekten Woodoism und La Môme ist Florian auch in verschiedenen anderen Formationen auf den Bühnen der Schweiz und des nahen Auslands anzutreffen. Er hat unter anderem mit folgenden Formationen und Musikern zusammengearbeitet: Julian Sartorius, Lucas Niggli, Andreas Tschopp, John Voirol, Opernhaus Zürich («Die Soldaten»), Mario Batkovic und Alain Brenzikofer's Footprints. Konzerte am Int. Jazzfestival Bern, Jazzfestival Schaffhausen, Moods im Schiffbau, Jazzfestival Wetzikon, BeJazz Bern, Bird's Eye Basel. Florian ist Träger eines Stipendiums der Hirschmann Stiftung für hervorragende Leistungen im Bachelorstudium und erhielt 2016 ausserdem einen Aus- und Weiterbildungsbeitrag der Friedl-Wald Stiftung.
Will Powell (UK) – guitars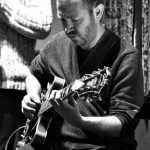 Will is one of the leading guitarists on the vibrant Leeds jazz scene, and has played with all of the area's best musicians, as well as many visiting guests; including being called upon by the multi award winning vocal star Liane Carroll to join her band for her recent gig at Seven Arts in Leeds. He has studied with the likes of Northern guitar legend Mike Walker, Simon Purcell (Head of Jazz at Trinity College of Music, London), and Julian Siegel (Partisans), and counts guitarists such as Bill Frisell, Peter Bernstein and Phil Robson in his influences. Will is also a gifted composer and band leader, leading and co-leading several bands under his own name, playing his original music, which draws on contemporary jazz and improvised music as well as alternative rock sounds. He also currently holds the guitar seat in the popular Tom Sharp Jazz Orchestra (winner, Northern Big Band Competition UK in 2016).
Matt Jenkins (UK) – piano & rhodes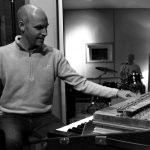 Matt began experimenting with jazz and improvisation as a young pianist; this early exploration became the primary influence over his musical career. Matt studied Composition at the Royal Academy of Music, graduating with Honours in 2006, and has written music for award-winning films, TV shows and commercials. As a songwriter and producer, he has worked with prominent artists including Mika and Hayley Westenra. Matt studied jazz piano with Nick Weldon, and has continued his development at summer schools under the tutelage of Mike Gorman and Robin Aspland amongst others. He frequents London's jazz scene and can often be found at jams including the well-known Herne Hill session.
Alexander Rawlinson (UK) – bass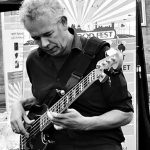 Alexander is a busy bass player on the London Jazz and Afro Cuban music scene. He is an Alumni of Goldsmith University and has studied with John Goldsby, Henry Lowther amongst others. He started one of South London's best known weekly jazz Jam Session in Herne Hill and has shared the stage with renowned Jazz and Latin contemporaries such as Anita Wardell, Soweto Kinch and Roberto Pla. Alexander also performs regularly with several Jazz combos and with the following established Cuban bands; Orquestra Estelar, Bilongo and Here to Havana.
Mike Roy (UK) – drums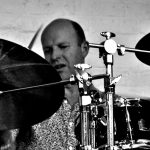 Mike has been working as a drummer with a variety of musicians over the years and is experienced in many musical styles, from Jazz Ensemble to Rock/Funk and Fusion studio session work and corporate function bands on the circuit. He is House Drummer for a well-known Jam session in London. Mike has been lucky enough to study with Dave Weckl and other acclaimed session drummers: Tristan Mailliot (Acoustic Alchemy, Jim Mullen, Anita Wardell); Geoff Dunn (Van Morrison, Manfred Mann Earth Band, Procul Harum); Elliott Henshaw (Buddy Rich Big Band, Tony Christie). He has also worked as an assistant tutor on Jazz Summer schools in France and has supported and performed with top UK jazz musicians including BBC award winning Jazz vocalist Anita Wardell; Barry Green, Rob Barron, Robin Aspland, Reuben James; Gareth Lockrane, Alex Garnett, Christian Brewer, Mick Foster and Jeremy Brown. Mike likes to think of himself as a solid, dependable (sometimes friendly) groove man !